Past Event

June 20, 2014 – June 22, 2014
9/50 Summit
Special Event
---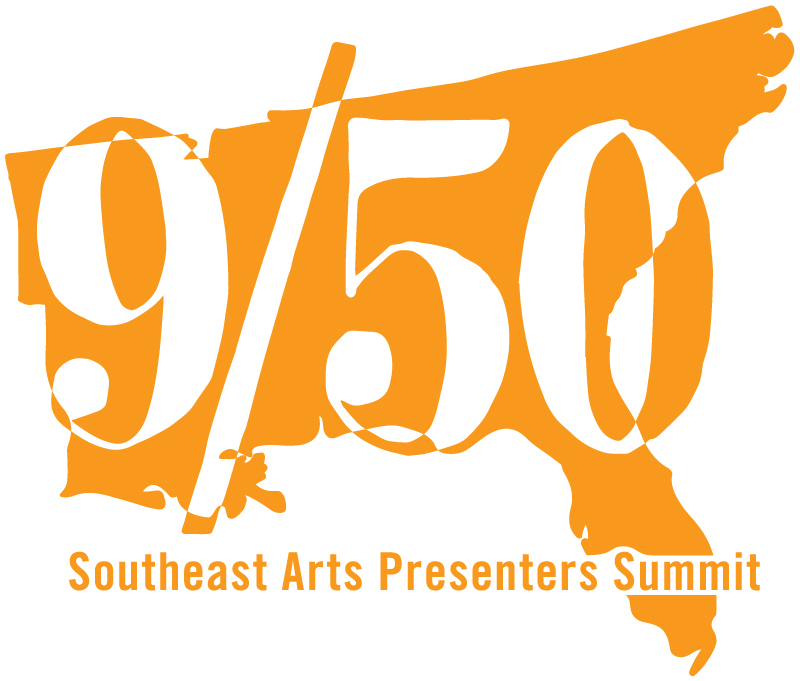 Proximity does not always yield closeness: ACAC and co-organizers Seed Space (Nashville, TN) and Elsewhere (Greensboro, NC), have devised a three day weekend event called 9/50: A Southeast Arts Presenters Summit, in an attempt to bring Southeastern nonprofit and independent contemporary art presenters and publishers together under one roof to showcase rigor, excellence, ambition, and uniqueness in their local context, and of significance to the larger contemporary art field.
9/50 refers to the fact that nine of the fifty United States will be represented, including Alabama, Arkansas, Florida, Georgia, Louisiana, Mississippi, North Carolina, South Carolina, and Tennessee. The summit will afford arts professionals and audiences a chance to gain access to an overview of the Southeastern region, and enjoy the opportunity to meet and mingle with regional colleagues, pursue curatorial and collaborative ventures, print and on-line publications, and unique initiatives.

Friday, June 20
7-10pm
Opening Night Party
$25 includes:
Dinner by Good Food Truck (this will be a family style curry meal – vegetarian), performance by Tiger Moon at 9pm
7-9pm will be music by DJ Trey of Soul Spin
Cash bar with special creamsicle cocktail "The 9/50"
Location: Outside under the ACAC Pavilion
Saturday, June 21
11am-5pm
FREE and OPEN to the Public!
6pm
Keynote Address: Barry Blinderman // FREE and OPEN to the Public
Sunday, June 22
12pm-5pm
FREE and OPEN to the Public!
2pm
Public Panel: Does Regionalism Exist? // FREE and OPEN to the Public


Ain't Bad Magazine (Savannah, GA)
ART PAPERS (Atlanta, GA)
Coleman Center for the Arts (York, AL)
Cress Gallery of Art, University of Tennessee (Chattanooga, TN)
Dimensions Variable (Miami, FL)
Dust To Digital (Atlanta, GA)
Elsewhere (Greensboro, NC)
Flux Projects (Atlanta, GA)
Good Weather (North Little Rock, AR)
Halsey Institute of Contemporary Art, College of Charleston (Charleston, SC)
Locust Projects (Miami, FL)
Ohr-O'Keefe Museum of Art (Biloxi, MS)
Paradise of Bachelors (Chapel Hill, NC)
PARSE (New Orleans, LA)
Pelican Bomb (New Orleans, LA)
Press Street (New Orleans, LA)
Seed Space (Nashville, TN)
Space One Eleven (Birmingham, AL)
This Opening Night Party is your first chance to meet, mix and mingle with 9/50 Presenters. Enjoy dinner generously provided by Good Food Truck!
7 – 9pm :: DJ Trey from Soul Spin will play
9-10PM :: Special Performance by Tiger Moon :: Meow Lin (Chanel Kim) and ZigZagZig (Zopi Kristjanson) are feline samurai spirits who spit rhymes over beats by Chris Devoe. The duo constructs a "lunar mythology" that draws from Wu Tang Clan, ancient cultures, and personal drama. Put your paws in the air!
Tickets are $25 in advance :: Limited availability :: Cash bar
Ticket sales ONLINE are now CLOSED.
We WILL HAVE TICKETS available at the door.

Follow the presenters and the 9/50 Summit on our tumblr page, which includes links to Presenters and Events.

Sat, June 21, 6pm
Barry Blinderman, Director of University Galleries, College of Fine Arts, Illinois State University
Barry Blinderman will address the challenges and pleasures of presenting consequential exhibitions and projects in off-center locales.
Bio:
Barry Blinderman is a curator of contemporary art and essayist on art from the 1980s to the present. He has been the director of University Galleries of Illinois State University since 1987. As a part-time professor in Art History at Illinois State University, he has taught seminars on topics including American Art of the 1980s, and Pop Art and Proto-Pop. He holds a B.A. degree in Art History from Boston University and an M.A from University of Pennsylvania.
From 1980-87, Blinderman was the director of Semaphore Gallery and Semaphore East—-in Soho and the East Village, New York City, respectively—-where he curated exhibitions of artists including Nancy Dwyer, Keith Haring, Robert Longo, Martin Wong, Robert Colescott, and Duncan Hannah. Blinderman's essays have been published in books on Keith Haring, Danica Phelps, Kenny Scharf, Jeanne Dunning, Martin Wong, Tseng Kwong Chi, Jim Lutes, and many other artists. His interviews with Andy Warhol, Keith Haring and Robert Longo have been republished in numerous art anthologies including Art Talk: the Early 80s and I'll Be Your Mirror: The Selected Andy Warhol Interviews 1962-1987. Selected curatorial projects include Jason Lazarus: Your Time is Gonna Come (2011); Nadia Hotait: preferring the fleeting happiness on earth (2010); Fantastic LA (2009); Jim Lutes: Paintings and Drawings, 1995-2008 (2008); Thomas Woodruff: Freak Parade (2006-2010); Michelle Grabner: Remain in Light (2006); Siebren Versteeg (2005); The eShow (Krannert Museum, 2003); Tony Tasset: Better Me (2003); The UFO Show (2000); post-hypnotic (1999-2001); Sweet Oblivion: The Urban Landscape of Martin Wong (1998); Alexis Rockman: Second Nature (1995); Keith Haring: Future Primeval (1990-1991), and David Wojnarowicz: Tongues of Flame (1990-1991).
Exhibitions he has curated have traveled to more than 70 museums and university galleries, including the Museum of Contemporary Art, Chicago, the Queens Museum of Art, The Chicago Cultural Center, the Whitney Museum at Philip Morris, and the Santa Monica Museum of Art. Reviews of exhibitions have appeared in The New York Times, The Village Voice, Art in America, Artforum, Scientific American, Chicago Sun Times, and other publications. As director of University Galleries, Blinderman has received ten National Endowment grants, twenty-five Illinois Arts Council grants, and two Lannan Foundation grants. He has lecturered at institutions throughout the U.S., including The Arts Club of Chicago, Massachusetts College of Art, School of the Art Institute of Chicago, Santa Monica Museum of Art, The Museum of Contemporary Art, Chicago, University of Wisconsin, Madison, and University of Illinois, Champaign-Urbana.

Sun, June 22, 2pm
Does Regionalism Exist?
In a time when information and connections are created and accessed beyond the barriers of geography, how does location impact the way that artists, curators, publications, and institutions consider their communities, perspectives, and histories?
Moderator: Susannah Darrow, Executive Director, BURNAWAY (Atlanta, GA)
Panelists: Chad Alligood, Assistant Curator, Special Projects, Crystal Bridges (Bentonville, AR); Victoria Camblin, Editor/Artistic Director, ART PAPERS (Atlanta); James McAnally, Editor, Temporary Art Review, Co-Founder/Director, The Luminary (St. Louis, MO); Bob Snead, Executive Director, Press Street, 2013 Director, Hand In Glove conference (New Orleans, LA).
About the Moderator:
Susannah Darrow is the Co-Founder and Executive Director of BURNAWAY. In 2013, she was chosen as one of the top 30 nonprofit leaders in Atlanta under 30 years old by the Georgia Center for Nonprofits. She serves on the Board of Directors of ART PAPERS magazine and has served on the Forward Arts Foundation Emerging Artist Award Committee, Hudgens Award Advisory Committee. She is currently in the 2014 class of Arts Leaders of Metro Atlanta. She received a BA in Art History from the University of Georgia (2007) and MA in Art History from Georgia State University (2013).
About the Panelists:
Chad Alligood is the Assistant Curator for Special Projects at Crystal Bridges Museum of American Art. Alligood is a Perry, Georgia native who earned his bachelor's degree in History of Art and Architecture from Harvard University, his master's degree in Art History from the University of Georgia, and has completed his PhD coursework at City University of New York (CUNY). After serving as adjunct professor of art history at Brooklyn College from 2010 to 2012, Alligood went on to become a Curatorial Intern for Collections at the Solomon R.
Guggenheim Museum, where he provided research support for the development of large exhibitions of modern art in New York and abroad. His projects included Il Guggenheim: L'avanguardia americana 1945–1980, an exhibition of 65 works of modern American art drawn from the Guggenheim collection and shown at the Palazzo delle Esposizioni in Rome. While at the Guggenheim, he also provided significant support for John Chamberlain: Choices as well as a collections exhibition on monochromatic painting and sculpture.
Alligood received the Kress Foundation Fellowship from Smith College Institute for Art Museum Studies, and came to Crystal Bridges from Cranbrook Art Museum where he was serving as the Jeanne and Ralph Graham Collections Fellow, curating an exhibition titled What to Paint and Why: Modern Painters at Cranbrook, 1936 – 1974, which opened in early June 2013. Alligood's research and exhibitions have focused on American art since 1900, and his areas of particular interest include contemporary art, art of the 1960s and '70s, and art of the west coast.
Alongside Crystal Bridges' President Don Bacigalupi, Alligood is currently curating State of the Art: Discovering American Art Now, an exhibition debuting at the museum in September 2014. State of the Art is the culmination of a year-long process that included thousands of miles of cross-country travel and nearly 1,000 in-studio interviews with artists. The result of this unprecedented journey is a one-of-a-kind exhibition that draws from every region of the United States, offering an unusually diverse and nuanced look at American culture through the work of more than 100 artists. Beyond State of the Art, Alligood's ongoing work at Crystal Bridges focuses on the collection, presentation, and scholarship of modern and contemporary American art, with an emphasis on the postwar period.
Victoria Camblin is Editor and Artistic Director of ART PAPERS, a 38 year-old arts magazine and non-profit based in Atlanta. From 2006-2013, she was Editor of 032c, a Berlin-based contemporary culture magazine, where she remains on the editorial board. Her writing has appeared in such publications as Artforum and Texte zur Kunst, and she has organized and contributed to various talks and symposia in Europe and the Middle East. She is currently completing a PhD in the History of Art at the University of Cambridge (UK), where her doctoral work is devoted to Acéphale, a periodical edited by Georges Bataille and illustrated by André Masson. She is interested in the combined communicative and community-building powers of text, image, and action.
James McAnally is an artist, curator and critic whose work seeks to create a space of expanded authorship and exchange, considering the role of the artist within a broader landscape of production, conception, and consumption. He is a graduate of Washington University in St. Louis, where he received his degree in English Literature, with Minors in Creative Writing and Music. He is the co-founder, Executive Director, and Curator of The Luminary, an incubator for new ideas in the arts based in St. Louis, MO.
McAnally also serves as the co-founder and Executive Editor of Temporary Art Review, an international platform for contemporary art criticism that focuses on artist-run and alternative spaces. He has lectured widely at such venues as Ohio University, Chatham University, (e)merge art fair, Washington University in St. Louis, the Pulitzer Foundation for the Arts, University of Missouri – Columbia, as well as served as a Visual Arts panelist for the National Endowment for the Arts in 2013 and as a speaker at the 2014 Open Engagement Conference at the Queen's Museum. In his artistic practice, he works as US English, a collaborative that explores collective identity, spatial politics, and forms of protest through a diverse collection of text, sound, objects and interventions, often initiating large-scale projects in public space.
Bob Snead is an artist, community organizer, and native of Charleston, SC where he cofounded Redux Contemporary Art Center and remained founding director of the organization until 2005 when he left to pursue graduate studies at Yale University School of Art. After receiving his MFA in 2007, he helped form the traveling artist collective Transit Antenna and spent the next two years developing community based art projects across North America. Since then he has lived in New Orleans with his family where he is an active leader in the art community. In 2011 he was named a distinguished alumnus of the College of Charleston for his extensive work with non-profit arts organizations, and he is currently Executive Director of the New Orleans based non-profit Press Street, a board member of the New Orleans Contemporary Art Center, and was the director for the 2013 Hand-in-Glove Conference for artist-centric organizations.
Special Project: BURNAWAY: Re-mapping Regionalism
Re-mapping Regionalism is a curated selection of published texts, utilizing various sources and magazines from 1984-present, that explores the history and of regional-based conversations in the Southeastern United States as a means to contextualize contemporary dialogues and practices. Are these (now historicized) texts still relevant to regional issues today? How do these archives inform our thinking on the connections between place, making, and presenting?
This Special Project is presented in conjunction with the public panel, Does Regionalism Exist?, on Sunday June 22 at 2pm, moderated by BURNAWAY co-founder and Executive Director Susannah Darrow. Some texts will be made available for public access and distribution.
Location: ACAC Resource Room
---