Past Event

January 22, 2017 / 10:30am – 11:30am
Movement Love
a yoga series
Special Event
---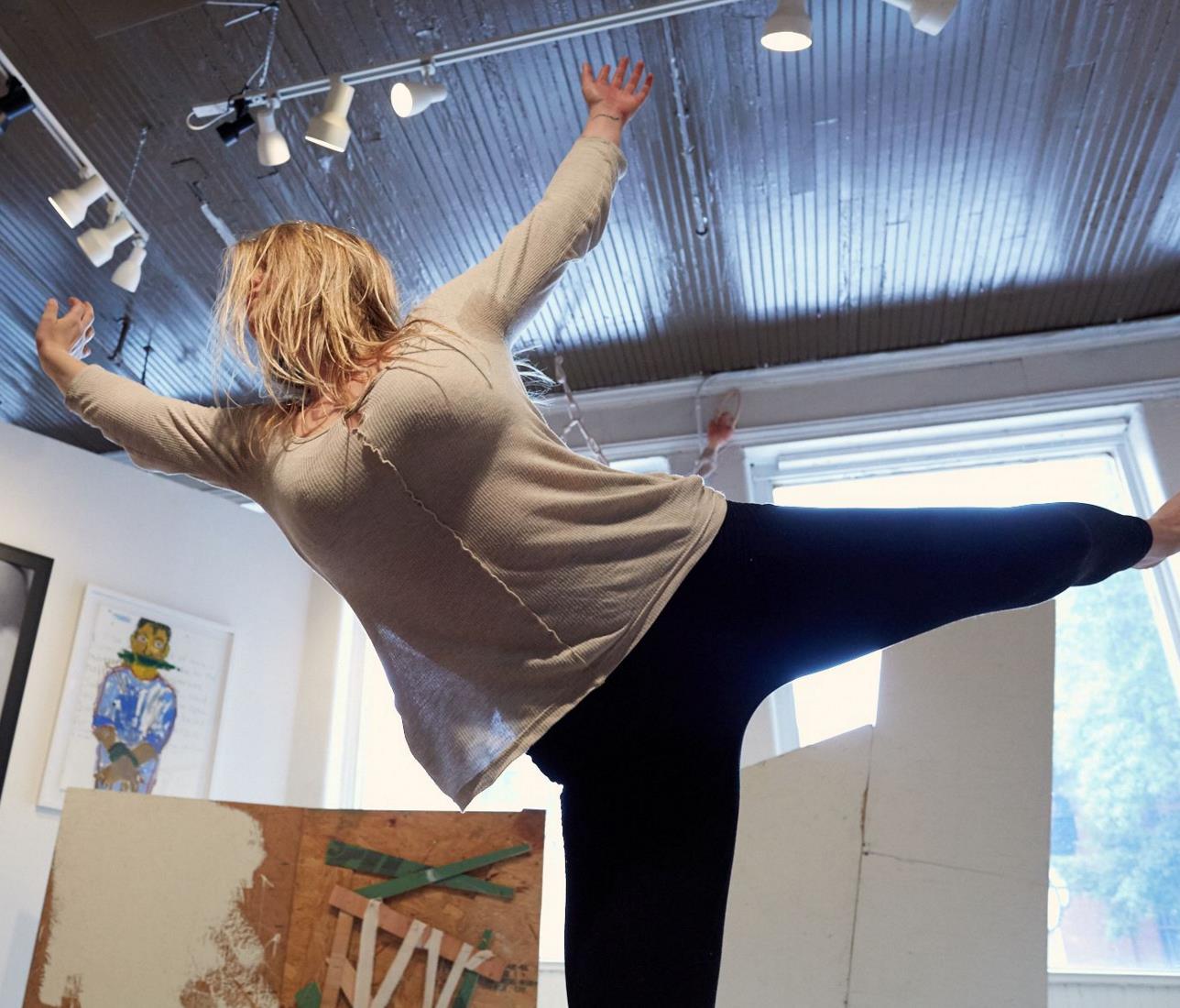 This December through next Spring 2017, Maggie Benoit and Atlanta Contemporary present "Movement Love," a yoga series that introduces movement programming alongside collaborating audio and visual artists. Installations and interactive media define curated classes that blend movement with live projection, music, film, therapeutic resources and conversation for community building.
Admission is $10
All money received will go to those making the work. Visitors can purchase tickets on the day of the event at the welcome desk (we accept cash and credit via Square).
Upcoming Dates:
January 22, 2017 10:30am-11:30am — HEALING / Meredith Kooi
March 5, 2017 10:30am-11:30am — BODY / Marie Davon (Powerkompany) and Ben Rouse
May 7, 2017 10:30am-11:30am — HOW TO BE / TBD
Maggie Benoit
Maggie Benoit 's objective is to produce enriching experiences that bolster the arts alongside entrepreneurial efforts in Atlanta. Her focus is to strengthen a community driven network, a conversation, a connection to resources and a place for beings to express constructively. This way the individual and community grow by staying curious, asking questions, creating solutions, as well as learning constructs of both personal and social space. The question arises, "how does one define the ability to connect the intimately personal to another tangibly?" Such an expression means finding love for self, love for another, love for something that holds meaning. Sharing said experience defines a landscape of varied media through intentional integration of work and life.
Mason Brown (Brainworlds)
Atlanta based guitarist Mason Brown, better known as Brainworlds, works to envelop the listener in sheets of meditative sounds and delve deep into the subconscious to explore hidden relationships between the micro and the macro. Devoid constraints of time and gravity, the music Brainworlds floats in the metaphysical realm where mind and universe coalesce. Brown creates "an environment for participants to get lost in" by pairing looping chords with ethereal visuals that elucidate abstract mapping of the mind. These translations interpret the brain's capacity to explore concepts of growth and decay; the result being both meditative & transformative.
Kellie Vinal
Kellie Vinal is a scientist with artistic leanings and a firm believer in interdisciplinary conversation and collaboration. Through her work as a science communicator, curator, writer, and organizer, she aims to explore the intersection of science, art, and humanity.
Meredith Kooi
Meredith Kooi is a visual and performance artist, critic, curator, and educator based in ATL. Using research-based and process-based practices, Kooi engages radio broadcast, performance, drawing, mapping, writing, book-making and zines, video, photography, and installation to illuminate the embodied nature of the electromagnetic spectrum. In recent years, Meredith has been working collaboratively, connecting with others in conversations, oftentimes broadcasting those dialogues on air. She is an artist-in-residence with The Creatives Project (2015-17), a Wave Farm Transmission Artist, Hambidge Fellow, and recipient of Atlanta's Office of Cultural Affairs Emerging Artist Award (2014-15). Meredith is currently working on her PhD at Emory University in the Graduate Institute of the Liberal Arts, and she received her MA in Visual and Critical Studies from the School of the Art Institute of Chicago.
Marie Davon (Powerkompany)
In an effort to express a complex topic in sonic manner, Marie Davon has shifted (if only briefly) from her usual dramatic cinematic pop to exchange dialogue through a soundscape that's subtle shift in tonality. Fresh off of the release of her band Powerkompany's two-part album "Fever and Chills," Davon dips into new experiences with sparse compositional elements that use sonic loops to create one ethereal breath. Touching on different musical themes, she creates a meandering expression of challenge, triumph, intimacy and exploration.
Ben Rouse
Benjamin Rouse is an American photographer and director living in Athens Georgia. After leaving the Mormon church at the age of 19, Benjamin has long used art to better understand the secular world around him. Self taught, he has displayed his film and photographic work throughout the South East, as well as NYC. He has worked with a number of artists both locally and internationally, including Kishi Bashi, New Madrid, Tall Tall Trees, Don Broco, Bambara, Muuy Biien. He recently directed two videos for of Montreal and has collaborated with the band on projection design. After a stint painting rorschach blots, Rouse's interest grew into his most recent project conjuring rorschach blots with the human form using mirrors. Originally a photographic series, the project quickly turned to stop motion film because "the images wanted to move."
Photo by Forrest Aguar of Painting Primal performed with Maxim Beeching, 2016.
---
Honorary Chair
Host Committee
---