Atlanta Contemporary offers emerging professionals with the opportunity to learn, create, and innovate within the local and national contemporary art scene. Each of our interns are exposed to opportunities that nurture their career and provide hands-on experience in nonprofit management.
You will be exposed to a variety of industry professionals ranging from artists, curators, creative practitioners, to community leaders. Join our growing community of innovative change-makers today!

Applications for the regular Summer session are due April 9 at 5pm ET.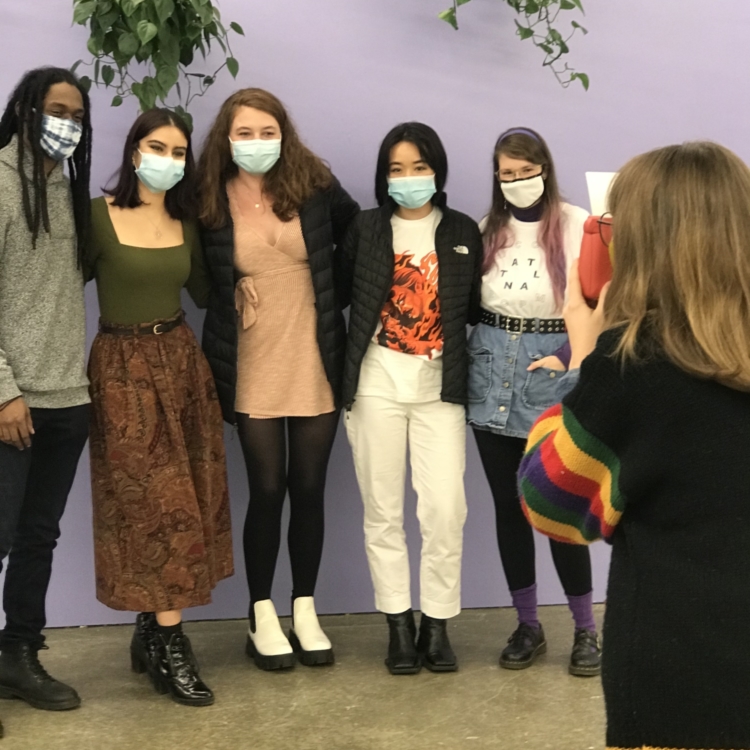 ---
Benefits & Eligibility
Atlanta Contemporary offers internships to emerging professionals who are above the age of 18 years old and are looking to launch a career in the arts.
While this is an unpaid opportunity, our interns are provided with professional development resources such as workshops and training that help prepare them for success in the acquisition of part-time or full-time positions within the arts and culture sector as well as placement in continuing education programs.
You must have an interest or background in art, arts administration, arts education, nonprofit management, or a related field. Computer proficiency and excellent writing skills are a must. You should be a good communicator, well-organized, enthusiastic, and able to work with limited supervision.

Position Description
The Intern candidate will work closely with the Executive Director and Development Manager to uphold and expand upon the organization's mission-driven strategic planning goals. Each Intern plays a vital role in supporting day-to-day operations associated with exhibition management, educational program development, visitor experience and engagement, fundraising, as well as general administrative operations. Each Intern will also work alongside the Visitor Services Coordinator, Program Coordinator, and Events Manager to assist with research, data collection and analysis, correspondence with patrons and community partners, as well as the production of creative assets for marketing purposes.
Skills & Attributes
A successful Intern candidate embodies the following skills and attributes:
Strong verbal and written communication skills with experience in developing accessible language for a variety of audiences
Strong organizational skills and sharp attention to detail
Ability to manage a variety of projects with varying deadlines
Willing to work collaboratively with others as well as maintaining the self-motivation to work efficiently and independently with limited supervision
Creative, Adaptable, and Disruptive
Program Overview
Our Interns are exposed to opportunities that nurture their professional career through hands-on experience in nonprofit management. Each Intern will gain professional development assistance through a variety of workshops related to career planning as well as industry training that will prepare for graduate school and/or the acquisition of entry-level positions within the arts sector. Each Intern will conduct bi-weekly check-ins with the Development Manager as well as two check-ins with the Executive Director at the beginning and close of the program. Routine meetings with staff provide guidance into project expectations as well as feedback on progress toward shared goals.
Commitment & COVID-19 Guidelines
Due to COVID-19, the Internship will be a hybrid virtual as well as in-person and on-campus structure. As allowed and under the guidance of our COVID-19 Policies and Procedures, Interns will be required to work at least two 6-hour shifts per week in-person and on-campus (535 Means Street NW Atlanta, Georgia 30318). Our COVID-19 Policies and Procedures govern day-to-day operations in accordance with CDC standards and include Personal Protective Equipment (PPE) and Social Distancing requirements. These Policies and Procedures are subject to change at any point to ensure the safety of staff, interns, volunteers, and daily visitors.

Atlanta Contemporary recognizes that ensuring the health and safety of our campus requires excellent communication. Importantly, it requires an acknowledgement that success must be a shared responsibility, where everyone feels a common sense of ownership and accountability. Thank you for doing your part to ensure our success.
All AUC Summer Interns must commit to a full-time hybrid virtual/in-person schedule. All other candidates must commit to a minimum of 15 hours per week for a period of at least 90 days. The more time you can offer, the richer the experience will be. Schedules vary per candidate and are determined upon acceptance into the program. Please indicate your availability and any other scheduling concerns in your application form.

How To Apply
Applications must be submitted via Google Form to be considered. Please do not send your application materials via email. If you have any questions about the program or application submission, you may email Abby Bullard, Development Manager at [email protected]

To best prepare your application materials in advance, the Google Form will require you to submit the following documents:
Resume (please limit to 1 page)
Cover Letter (please limit to 1 page) - In your cover letter, please answer the question: "How can this opportunity and the staff at Atlanta Contemporary best support you in your long-term career goals?"
Letter of Recommendation
2 reference contacts (Relation, Name, Email, and Phone)
AUC Summer Internship | May 1, 2021-August 29, 2021*
Applications are CLOSED.
The AUC Summer Internship is sponsored by the Atlanta University Center Art History + Curatorial Studies Collective and provides students from Clark Atlanta University, Morehouse College, and Spelman College an opportunity to participate in a full-time internship opportunity for the Summer. Click here to download the full PDF job description.

You must be an art history major or curatorial studies minor at an aforementioned AUC school to apply for this internship. All other Summer candidates can apply for the regular Summer session below. The Summer term dates listed above are a base line due to the variety of school schedules. A specific term date range that supports your schedule will be determined upon acceptance into the program.

Summer 2021 | May 1, 2021-August 29, 2021*
Applications for the Summer 2021 session are due by April 9, 2021.
Click here to submit your application today!
*While this session is listed as starting May 1, we understand many interested applicants may not be available until June 1. This is okay! We anticipate there being an overlap with Winter/Spring interns and Summer candidates. Please indicate your desired start date in the availability section of the application and we will gladly consider both session durations.
Fall 2021 | August 31, 2021-December 23, 2021
Applications for the Fall 2021 session will OPEN via Google Form on July 23, 2021. Applications are due by August 6, 2021.