Five Artists Ponder the Potential and Peril of New Worlds
January 11, 2023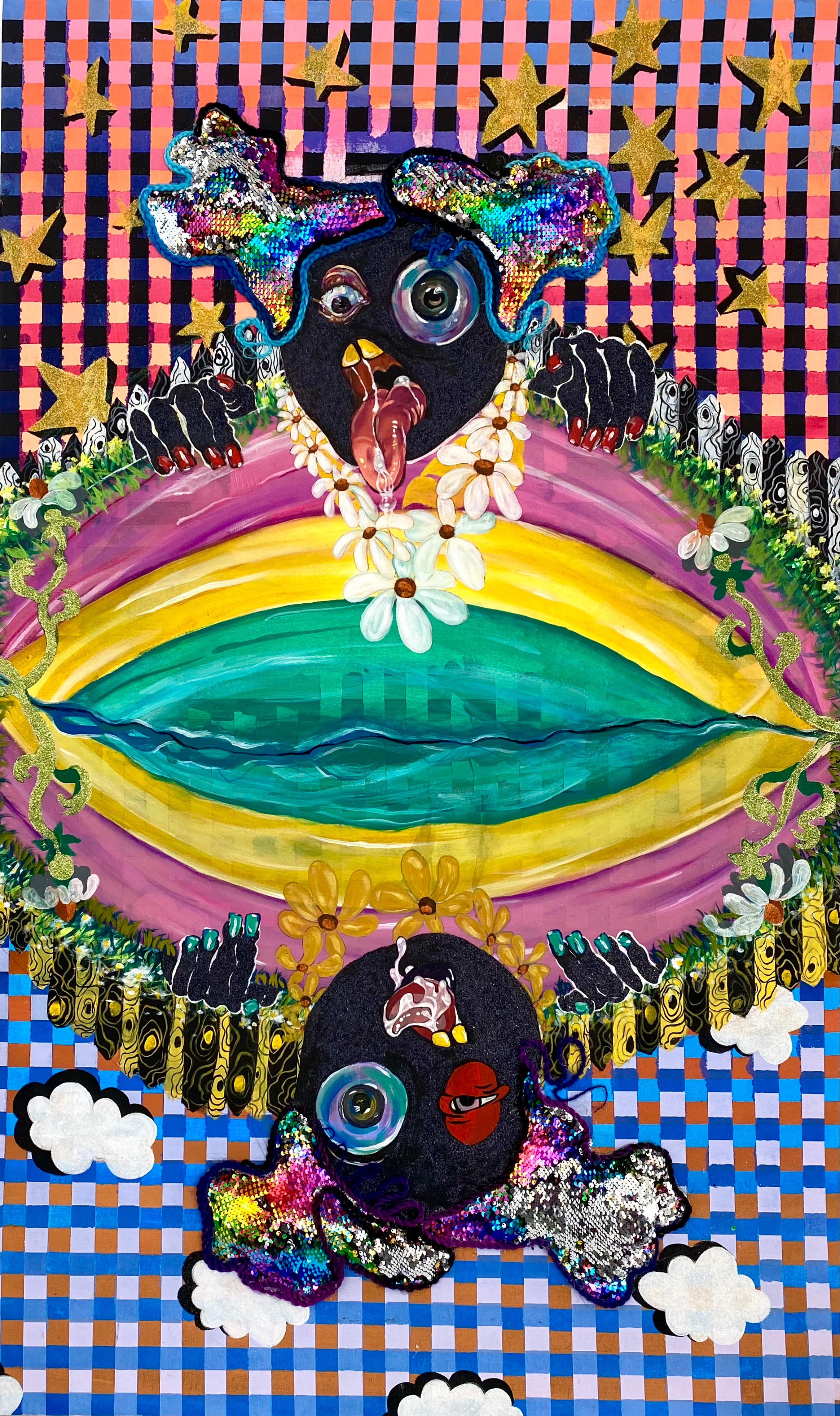 New Worlds: Georgia Women to Watch exhibition is a collaboration between the National Museum of Women in the Arts and the Georgia Committee.
On View: January 28- June 4, 2023
Exhibition Opening: Saturday, January 28, 2023
Atlanta (October 2022) -- Opening in January 2023, the exhibition New Worlds: Georgia Women to Watch unites five emerging Georgia women artists contemplating a strange and uncertain future. In a moment of dramatic cultural, political and environmental tumult, New Worlds: Georgia Women to Watch offers an opportunity to speculate on what our shared destinies might hold. The exhibition, organized by the Georgia Committee of the National Museum of Women in the Arts, examines how our societal conditions have impacted artists' visions for the future or inspired them to create alternative realities. When women artists envision a different world, how does that look?
New Worlds is co-curated by Melissa Messina and Sierra King and will be presented at Atlanta Contemporary January 28-June 4, 2023. One artist will be chosen from the Georgia exhibition for an exhibition at the National Museum of Women in the Arts in Washington, D.C. slated for spring 2024.
The Women to Watch exhibition is a highly-competitive exhibition held approximately every three years. A Georgia-based curator is invited to select a group of five Georgia women artists whose work fits within the exhibition's theme. The program is designed to increase the visibility of, and critical response to, promising women artists. Additionally, the program seeks to incorporate high quality art professionals into the committees' activities. Women to Watch is an exhibition program that features underrepresented and emerging women artists. The previous Women to Watch exhibition in 2020 was curated by the High Museum of Art's Wieland family curator of modern and contemporary art, Michael Rooks.
The New Worlds: Georgia Women to Watch exhibition is an important move toward greater equity in the arts when major art museums across the United States have devoted the majority of their collection holdings to work by male artists.
With a track record of supporting women artists (76% of its exhibiting artists are female), the non-profit alternative art space Atlanta Contemporary has a mission that aligns perfectly with the Georgia Committee's goal to support and advocate for women artists in Georgia.
ABOUT THE ARTISTS
Anila Quayyum Agha (b. Lahore, Pakistan) received her BFA from the National College of Arts, Lahore and an MFA from the University of North Texas. Recent solo shows include the Peabody Essex Museum in Salem, MA, National Sculpture Museum in Valladolid, Spain, The Dallas Contemporary Art Museum, Cincinnati Art Museum, the Museum of Contemporary Art in Jacksonville, FL. Philbrook Museum of Art in Tulsa, North Carolina Art Museum in Raleigh, and the Toledo Museum of Art in Ohio. For the 2019 Venice Biennale Agha was included in a collateral event, She Persists, with 22 contemporary feminist artists. Among many other awards, Agha has received a Joan Mitchell Painters and Sculptors award in 2018 and 2019 as well as the prestigious Smithsonian Fellowship in the arts. Her work has been collected by both institutions and private collectors; nationally and internationally.
Savannah, Georgia-based artist Namwon Choi holds a BFA and MFA in traditional Korean painting from Hongik University in Seoul, Korea. She received her MFA in Drawing and Painting at Georgia State University in Atlanta in 2014. Her work has been exhibited at the New York City Korean Culture Center, the Los Angeles Korean Culture Center, Aqua Art Miami, at The Museum of Contemporary Art, Georgia in Atlanta and B20 Wiregrass Biennial at the Wiregrass Museum in Dothan, Alabama. In 2020, she was one of three finalists selected for the most recent 1858 Prize Contemporary Southern Art Award at the Gibbes Museum in Charleston, South Carolina. She is currently a professor of Foundation Studies at Savannah College of Art and Design.
Victoria Dugger (b.1991) was born in Columbus, Georgia. She attended Columbus State University where she received her BFA in Drawing and Painting. Dugger received her MFA from the Lamar Dodd School of Art at the University of Georgia. Her work has been featured in New American Paintings South Edition, Burnaway, and Flagpole Magazine as well as various other publications. In June 2021 she had her New York debut solo show Out of Body, at Sargent's Daughters gallery. She is represented by Sargent's Daughters gallery in New York.
Atlanta-born Shanequa Gay (b. 1977) holds an MFA from Georgia State University and BA from the Savannah College of Art and Design. Gay's accomplishments include selection for Off the Wall, a city-wide Civil Rights and Social Justice Mural initiative led by the Atlanta Super Bowl Host Committee (2019). Her recent exhibitions include Atlanta Biennial, Atlanta Contemporary (2021); Le Monde Bossale, Montreal, Canada, in (2021); Adorned, McColl Center for Arts and Innovation, Charlotte (2020); Holding Space for Nobility: A Memorial for Breonna Taylor, Ackland Museum, Chapel Hill North Carolina (2020); and Lit Without Sherman, Hammonds House Museum, Atlanta (2019). Gay has exhibited her work in the United States, Japan, and South Africa and will participate in the European Cultural Centre's exhibition within the context of the 59th Venice Biennale in 2022, Gay is a visiting Professor at Atlanta's Spelman College.
Marianna Dixon Williams was born in Augusta, Georgia. She attended Brown University and received a BFA in Painting from the Rhode Island School of Design before completing an MFA with a concentration in time-based and interactive media at the University of Pennsylvania. She has held academic appointments at the University of Delaware, the University of Pennsylvania and as an Assistant Professor of New Media at Augusta University. Her work was recently exhibited in Personal Structures: Identity at the European Cultural Center at the 2022 Venice Biennale. She will assume a role as an Assistant Professor of Digital Art and Design at Mount Holyoke College in 2023.
ABOUT THE CURATORS
Melissa Messina is an independent curator, curatorial advisor, and curator of the Mildred Thompson Estate. She has curated solo shows for such esteemed female artists as Uta Barth, Lynda Benglis, Chakaia Booker, Maya Lin, Clare Rojas, Shinique Smith and Ursula Von Rydingsvard to name a few; and she has also authored essays on numerous women artists including: Candida Alvarez, Alison Elizabeth Taylor and Trish Tillman, among others. She has been a recent guest curator at the Spelman College Museum of Fine Art, Atlanta, GA, the New Orleans Museum of Art, LA, and the Visual Arts Center of Richmond, VA, and was the co-curator of the 2018 and 2020 Bermuda Biennials.
Sierra King is an Atlanta-based artist, photographer and archivist. Her creative and arts administration work is dedicated to documenting, preserving and archiving the work of Black women artists. She worked as the Lead Photo Archivist for the Kathleen Cleaver Papers before it was acquired by Emory University and is currently building and preserving the archives of printmaker Jasmine Nicole Williams and director Ebony Blanding. Sierra was awarded the Billops-Hatch Fellowship Award to continue research for Build Your Archive, a memory work lab where Black women artists build their archives in real time.
ABOUT THE GEORGIA COMMITTEE
Founded in 1986 to support the mission of the Washington, DC-based National Museum of Women in the Arts, the Georgia Committee of the National Museum of Women in the Arts, is composed of a group of Atlanta critics, curators, artists, arts patrons and members of some of the most influential arts organization boards in the state. As a committee of the museum, we broaden the membership of the museum, create events highlighting the accomplishments of women and promote women artists in Georgia in an effort to help them achieve national and international recognition.
The Georgia Committee offers 8-10 programs a year for members and the general public aimed at highlighting the work of female artists in the state including artist studio visits, gallery spotlights, book signings, museum tours, theater premieres and guided art-centric trips around the state.
The Georgia Committee is grateful to the Forward Arts Foundation as lead sponsors of New Worlds: Georgia Women to Watch.
ABOUT THE NATIONAL MUSEUM OF WOMEN IN THE ARTS (NMWA)
The National Museum of Women in the Arts (NMWA) is the only major museum in the world solely dedicated to championing women through the arts. With its collections, exhibitions, programs and online content, the museum inspires dynamic exchanges about art and ideas. NMWA advocates for better representation of women artists and serves as a vital center for thought leadership, community engagement, and social change. NMWA addresses the gender imbalance in the presentation of art by bringing to light important women artists of the past while promoting great women artists working today.
ABOUT ATLANTA CONTEMPORARY
Founded in 1973 as Nexus, a grassroots artists' cooperative, Atlanta Contemporary has since become one of the southeast's leading contemporary art centers. We play a vital role in Atlanta's cultural landscape by presenting over 200 consequential artists and creatives from the local, national, and international art scenes through our various exhibition, project spaces, and programs each year. We commission new works, paying particular attention to artists who have not had a significant exhibition in the Southeast. We organize over 125 programs annually including Contemporary Kids, Contemporary Cocktails, Contemporary Talks, and more! Atlanta Contemporary provides 13 on-site subsidized studio space to working artists through the Studio Artist Program.
For additional information about New Worlds: Women to Watch, please contact Sara Steinfeld: president@ganmwa.org or 404-213-7415.
Copyright (C) 2022 Georgia Committee National Museum of Women in the Arts. All rights reserved.