Past Event

November 3, 2017 – November 5, 2017
Hz
Presented by
Fly on a Wall
Performance
---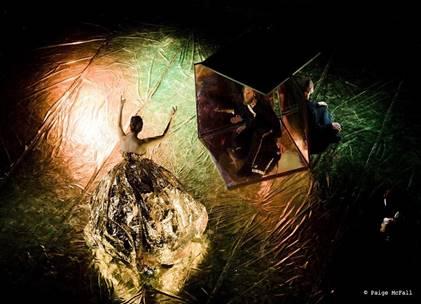 Join us for a special performance series, Hz, presented by Fly on a Wall. Fly on a Wall is an idea house that presents and supports innovative performance. 
Hz, which premiered October 2016 atop Eyedrum Art and Music Gallery's rooftop, is a performance experiment centered around binaural beats, dance, and shared experience. A binaural beat is an auditory illusion that occurs when two tones at different frequencies are presented to a listener dichotically. This auditory illusion creates a third tone which encourages your brain into an altered state.
During Hz, the audience will use their own mobile device and earbuds to access the binaural beats. Artists of Fly on a Wall will be listening to the same binaural beat as the audience and will allow the altered state to affect and inform choices within the performance. The structure of Hz is built on varied layers of dance, spectacle, technology, and shared experience coming together to create a uniquely crafted evening.
Following the performance, the audience will be asked to complete a short survey regarding their experience. This is an integral part of the performance experiment as it allows Fly on a Wall to gather and analyze this quantifiable data to further the work.
Doors and cash/card bar open at 7pm / Performance at 8pm
Admission is $20 in advance / $25 at the door / $18 for Supporters
Image courtesy of Paige McFall Photography.
Bio
Fly on a Wall is an idea house that presents and supports innovative performance. They were recipients of a 2016 Idea Capital grant and most recently their work was presented at the High Museum of Art and The Hambidge Creative Hive at Colony Square. Fly on a Wall's work best reveals itself through inventive theatrical elements that often manifest as performative structures. These elements are integral to the work and allow the audience new dimensions with which to view it.
---