Past Event

December 12, 2019 / 7:00pm – 9:00pm
SAME | SAME with Extremely Michael
Performance
---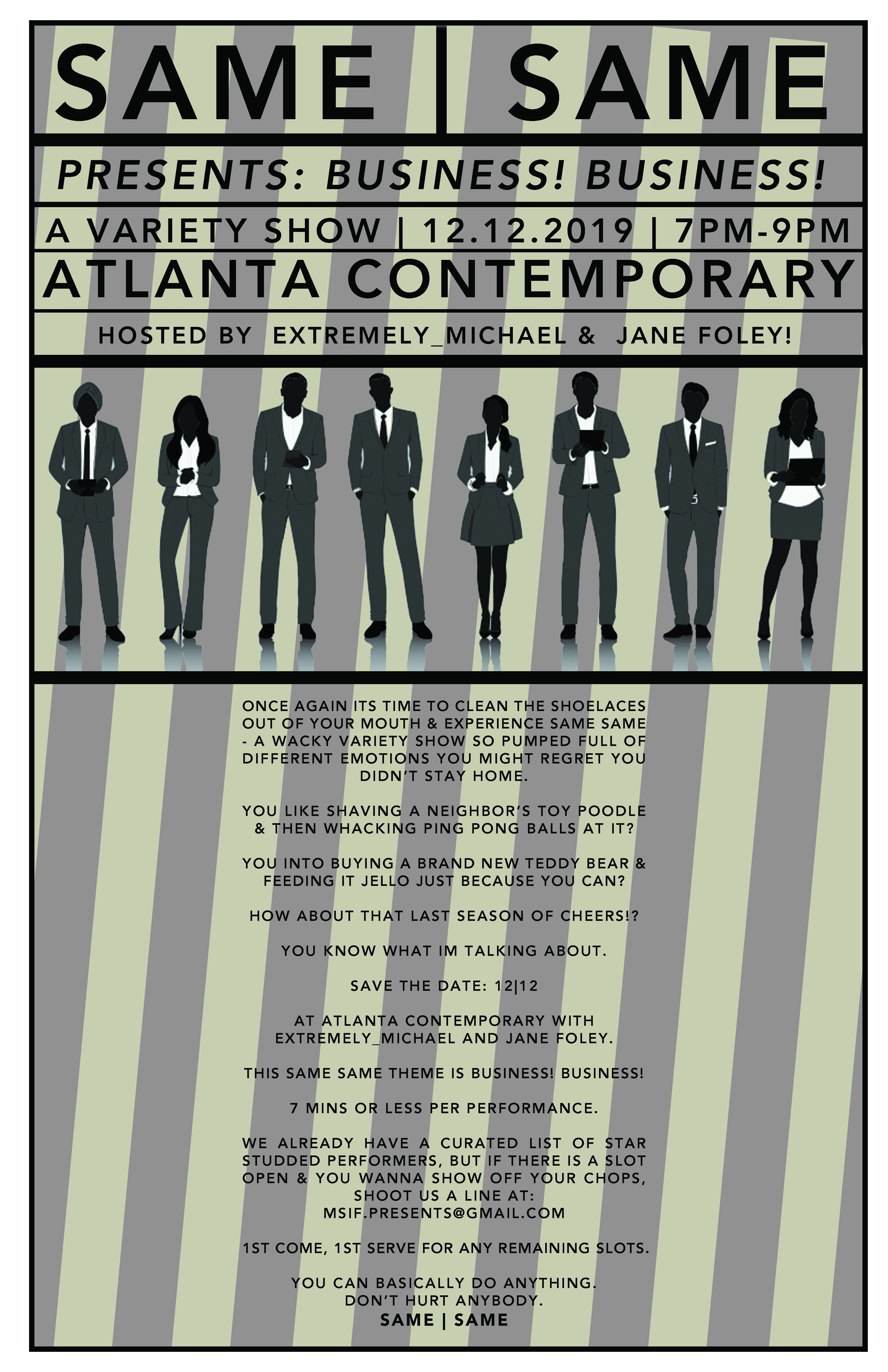 Once again its time to clean the shoelaces out of your mouth & experience SAME SAME - a wacky variety show so pumped full of different emotions you might regret you didn't stay home. 
You like shaving a neighbor's toy poodle & then whacking ping pong balls at it?
You into buying a brand new teddy bear & feeding it jello just because you CAN?
How about that last season of CHEERS!?
You know what Im talking about.

Save the date: 12|12 at Atlanta Contemporary with EXTREMELY_MICHAEL and Jane Foley.

THIS SAME SAME THEME is BUSINESS! BUSINESS!
7 mins or less per performance.

We already have a curated list of star studded performers, but if there is a slot open & you wanna show off your chops, shoot us a line at: [email protected]. 1st come, 1st serve for any remaining slots.

You can basically do anything.
Don't hurt anybody.
Same | Same
Bios
Mike Stasny is an installation artist, performance artist, and sculptor from the midwest currently working out of Atlanta. He primarily works with raw building materials and broken furniture converting them into "creatures" inspired by natural history museums, sci-fi, and his grandfather - an eccentric taxidermist whom let Mike play in his basement with numerous dead things. His most notorious work to date is "what what in the butt" - a youtube viral video that conflates homosexuality, blackness, and religion into an absurd / escapist cartoon like universe. On occasion, he provides "MUSIC YOU NEED" for art related events.
Jane Foley (b*1985, New Orleans) is a sculptor, performer, and sound artist living in Atlanta, Georgia (US). Her sound works explore isolation versus connectivity in public spaces, beginning with subtle repeated experiments in deep listening and reciprocity. She uses sculpture and performance also as frameworks for interaction, creating physical spaces for unscripted involvement, favoring communication and process over controlled outcomes. Jane Foley has created site-specific public sound sculptures for the Architecture Triennale in Lisbon, Portugal and La Friche Belle de Mai in Marseille, France with Zurich-based Sound Development City, as well as produced a sound composition for Saout Radio that played in taxicabs throughout the 5th Marrakech Biennale in Morrocco. In Atlanta, she has created public works for Flux Projects, the Atlanta Beltline, WonderRoot, and the Goat Farm, among others. Following a recent residency at Atelierhaus Salzamt in Linz, Austria, she has been composing from layered field recordings, chasing ever-elusive images of transitional sounds in built spaces.
---